More of a poem rather than a quote, this poem is infamously powerful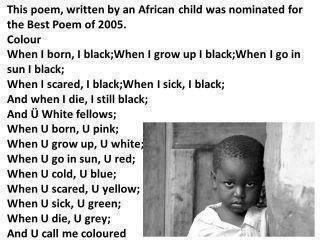 Racism is unfortunately evident even in todays modern age. Considering worse and worse the world is getting, common sense is becoming blinded. However, coming across this poem, it is perfect to how racism should be tackled. The best thing is that it won the award for Best Poem in 2005.
There is nothing much to say except that this poem is as powerful as they come. We need to shed more light on positivity rather than negativity in these tough days and this young child is not afraid to expose negativity through common sense and positivity. People still continue to quote the words contextually but needs sharing for higher recognition.
Like this post? Share it on social media!